Our Doctors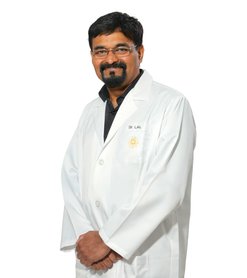 Dr. Lal Krishnan Nair
Specialist
---
Anesthesiology
---
KIMSHEALTH Hospital Oman
---
Procedures & Treatments
The Department of Critical Care and Anesthesiology at KIMS HEALTH Hospital Oman provides the highest standard of critical and supportive care to patients who are in life-threatening and critical conditions, in-operation anesthesia and pain management services and post-operation care for patients during recovery. The team comprises of licensed professionals with a certified degree in Critical Care. The Intensive Care Unit (ICU) is staffed by a team of highly qualified intensivists and critical care physicians who provide world-class care to critically ill or unstable patients of all age groups and of varying conditions that require close and constant monitoring around the clock. Prepared for any situation, our vigilant and dedicated staff ensure the full stability of our patients who are referred from other hospitals or emergency departments, and after which they are transferred to one of our technologically equipped inpatient rooms. Our dedicated medical team is comprised of intensive care consultants, anesthesiologists, nurses, trained practitioners and technicians who are complemented by a multidisciplinary team of specialists from several departments at the hospital. We provide supportive, high-level critical and individualized care to each patient as well as surgical interventions when necessary including patients with multiple trauma and neurological cases. At our ICU we are staffed with one nurse for each patient to ensure safe and high-quality patient care. We also ensure that the families of the patients who are admitted are cared for by our health care professionals during these challenging times. Our technologically advanced intensive care unit follows standard procedures to reduce hospital-acquired infections such as hand hygiene, the usage of gloves and the proper usage of catheters. Our advanced facilities include a world-class 8-bed Intensive Care Unit (ICU) including one airborne isolation bed with a negative-pressure isolation for patients with infections such as Tuberculosis and coronavirus, 4 beds at our Post-Anesthetic Care Unit (PACU) all of which are closely monitored, comfortable beds with air mattresses which prevent bed sores for patients who are given extended bed rest, vertical medical power columns enabling easy accessibility to physicians and nurses, high-end monitoring and advanced mechanical ventilators for invasive and noninvasive artificial respiratory support for patients who have difficulty breathing by themselves.
---
Videos
The Information will be updated soon.
View All Videos

---
Articles
The Information will be updated soon.
View All